ITV's Broadchurch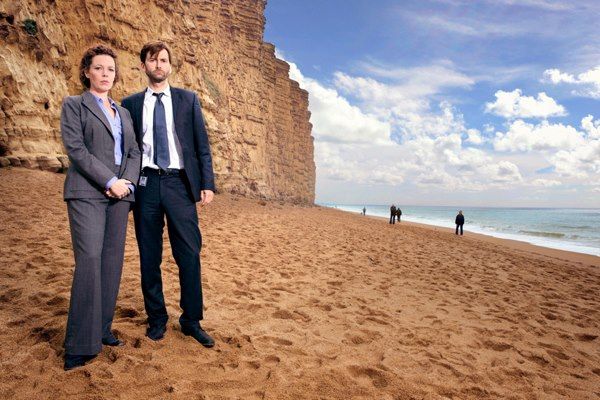 Excited about Series 3 (which is being filmed in West Bay now)? Are you awaiting the new Broadchurch with David Tennant and Olivia Colman with much excitement? Are you wowed by the beautiful scenary, views and landscapes? Well... you can enjoy it in first person by coming to stay with us. You can even see West Bay from our hilltop location - so book up, crack open a bottle of wine, put your feet up and enjoy your own Broadchurch retreat with us!

Far from the Madding Crowd
The 2015 movie adaptation of Thomas Hardy's famous book was filmed just down the road at Mapperton House and in the beautiful surrounding countryside. The house and gardens are open to the public between March and October.
Payments by card
We can now accept payments over the telephone or in person for payments on debit and credit cards. Please contact us for more information.

Lancombes Courtyard
Our new room, availble for hire for all occasions from corporate to private events. Click here for more info.

Welcome to our new look website!
We hope you like it :)
Hot meals ready for you when you arrive!
We are pleased to announce that Lancombes House have teamed up with The Marquis of Lorne at Nettlecombe to offer our guests the opportunity for a "stress free" first night's dinner. Pre-order direct with the Marquis at the time of booking with us and the food will be in the cottage ready for your arrival. Just uncork your own wine, heat, serve & enjoy! For a sample menu please click here.

The Cider Orchard has been planted!
The Cider Orchard is now up and running, for more information please click here.
Lancombes House is awarded the Silver Award from the Green Tourism Board
We are pleased to announce that we have been awarded the Silver Award for Green Tourism and are continously learning about new ideas to make Lancombes House environmentally friendly. To learn more about the criteria for the grading please click here.
Lancombes House is one of the first businesses to successfully complete the Jurassic Coast Quality Business Scheme
To become a Jurassic Coast Quality Business, participants must engage in a range of good business practices that illustrate their lasting commitment to the future of the Jurassic Coast. These include many 'back stage' activities that go with running a tourism operation but also many front facing ones too such as customer service, marketing, Jurassic Coast knowledge and environmental awareness.
For more information please click here.
We've been upgraded!
Claydon, Buckingham and The Farmhouse have just been upgraded to 4 Star accommodation by VisitBritain.
Games Room
The Games Room is now operational and contains:
Pool table

DVD library

Outdoor games

Board games

Paperback library
To add to the enjoyment of your stay at Lancombes House.
DVD Players
All cottages are now equipped with a DVD/CD player with a central library of DVDs available 24 hours a day. Titles range from children's classics such as Mr Men, Button Moon and Disney films to classified films including the Harry Potter films, Titanic, Gladiator and recently released DVDs.
The DVD Library is free for use by residents.